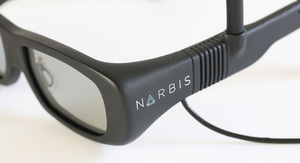 Thanks for your deposit of $249 to reserve your Narbis smart glasses!
Congratulations on being one step closer to receiving your Narbis Neurofeedback Smart Glasses! This page is designed specifically for customers who have already reserved their Narbis system with a deposit of $249. Now it's time to finalize your order.
Your deposit has ensured your place in our production schedule and we sincerely appreciate your commitment. To complete your order, an additional payment of $441 is due, bringing the total product price to $690.
Once you've completed your order, we'll keep you informed with regular updates on the shipping date. Our team is working diligently to get your Narbis Neurofeedback Smart Glasses to you as soon as possible.
Narbis Neurofeedback Smart Glasses utilize advanced neurotechnology to help enhance focus, attention, and relaxation. By providing real-time feedback on your brain activity, these glasses are designed to support you in achieving peak mental performance, whether it's for work, studying, sports, or even meditation.
We truly appreciate your order and your patience as we navigate the global chip shortage and supply chain issues. We're honored to have you as part of the Narbis family and look forward to shipping your system soon.
Thank you for your trust in Narbis. If you have any questions or need further assistance, please don't hesitate to reach out to our customer service team.

Note to international customers outside of U.S.

We welcome orders from around the globe, however, please be aware that import tariffs, customs duties, or other fees may apply when importing Narbis products into your country. These fees are calculated based on the purchase price of the product.
Unfortunately, we do not have control over these charges, nor are we able to adjust the declared value of the product for customs purposes. These regulations are set by your country's customs authorities and are beyond our control.
We understand that this may be an additional consideration for you and we thank you for your understanding in this matter. If you have further questions or concerns, please don't hesitate to contact us. We're here to support you through your Narbis purchase process.